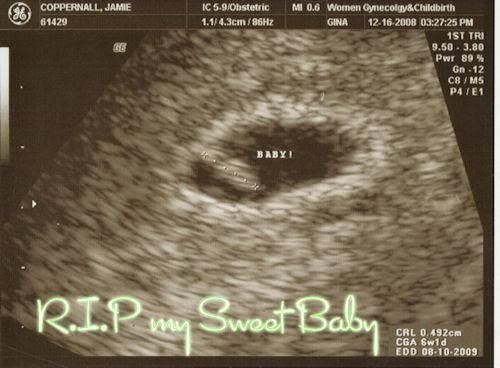 Well in September 2008 my hubs & I decided to TTC baby #4, I usually get pregnant very quickly but we didn't get a BFP til December 4, 2008 when I realized I was 4 days late.
So we told everyone cuz I had 3 normal healthy pregnancies with our other 3 sons & didn't think this pregnancy would be any different.
Well on December 13 I went to the bathroom & when I wiped there was blood so I freaked out & called my hubby in & we called the Dr. who told me that IF it was a miscarriage it would be over in a couple hours with heavy bleeding & cramping.
I waited for this heavy bleeding which didn't come & the cramps were no more than like a menstrual cycle so I went to bed & when I got up in the middle of the night the bleeding was very light & the cramps had stopped.
On that Monday December 15th I went to have my HCG levels checked & they were 10,000 which was good. On December 16th I went for an U/S & to our wonderful surprise the baby had a heartbeat so we thought that everything would be fine I went home & tried to just rest & put my feet up, well I started to have more cramping & bleeding so on Wednesday, December 17th I had my HCG levels checked again but this time they were only 9,000, they went down which I knew that wasn't good so on December 18th, 2008 we went for a second ultrasound & found that the baby no longer had a heartbeat, we were devastated.
Now in the meantime my left leg was beginning to swell & become very painful to the point where I was using crutches by the 18th, it was also Christmas time & after we were given the devastating news about the baby we had to put on a happy face & go to a family holiday party that night, where no one knew I was pregnant but my parents & sister, so it was extremely difficult.
Later that night after we got home, I had severe cramping & really heavy bleeding & the next day when I woke up the bleeding had pretty much stopped so when I went to the Dr. on December 19th to have my D&C done I told her I was no longer bleeding so she decided to just give me cytotec which would help get rid of any tissue that was left.
When I left the Dr. office on the 19th I went straight to the hospital cuz my leg was very swollen & painful & what we found out was I had a huge
blood clot
in my left leg so I was put on coumadin and given very strict orders by the Dr. to NOT get pregnant while on it so it wouldn't be til December 2009 when we TTC again & on November 12th 2010, 6 days before his November 18th due date, our Jaxen Andrew was born healthy & beautiful and is now 17 months old.
Jaxens due date was exactly 23 months from my miscarriage. Having Jax doesn't lessen the pain of losing our baby & I still think about the baby alot but he does help me cope with it a lil bit cuz he brings us such joy & it makes us so much more thankful for him
So I was 7 weeks pregnant when we lost the baby & even though it wasn't there very long we loved it just the same as our other children & it will forever be my child.